Whether you're trying to avoid that 3 o'clock slump at work or you want to keep up with the kids on weekends, here are four things you can do to ensure your energy levels are fully stocked up.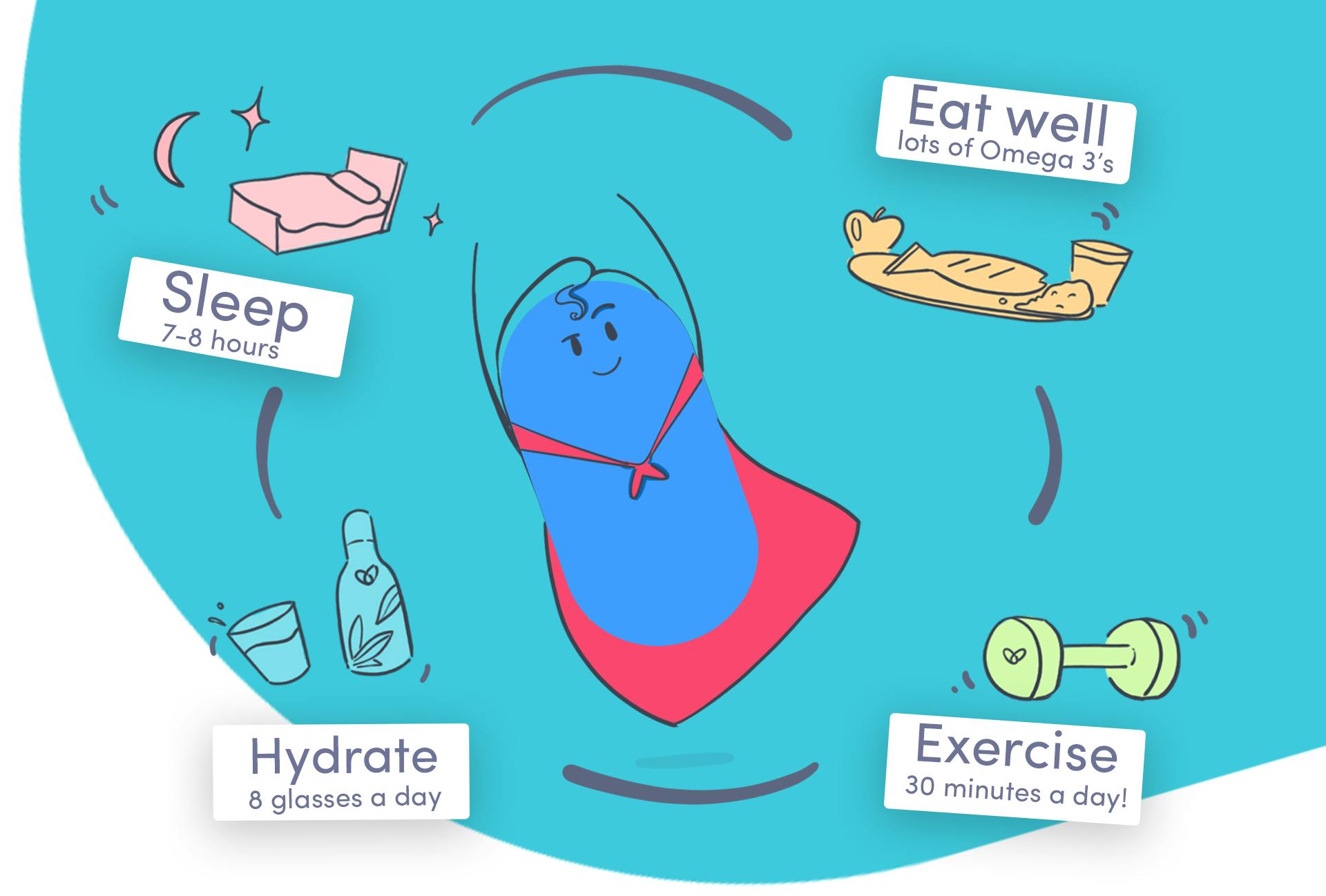 Get active and exercise 
Exercise might seem counterintuitive — when you're tired, exercise is often the last thing on your mind. But, studies show that regular exercise is a good way to improve your energy levels both in the long and short-term.
Straight after exercise, your body releases endorphins — hormones that give you a sense of elation and a burst of energy. Exercise will also help improve your sleep quality. You'll more likely feel more tired at bedtime, leading to better sleep.
In the long run, exercise also helps with your cardiovascular health. Better heart health means your body will find it easier to carry out daily tasks. This will decrease fatigue and give you more energy. Yoga has been shown to be particularly beneficial in reducing tiredness and making a positive difference in energy levels, life purpose, and satisfaction. Yoga also effectively treats chronic fatigue symptoms relating to depression and anxiety.
Drink enough water
Dehydration decreases alertness, concentration, and impacts your physical performance. Aim to drink around 8 large glasses of water a day.  If you're drinking enough, your urine should be pale yellow or straw coloured. Darker urine is a sign you need to drink more water to avoid dehydration.
Establish a regular sleep routine
Never underestimate the power of sleep. Getting between 7-9 hours of sleep a night helps your body reset and ensures it's firing on all cylinders the next day. 
A regular sleep routine is important in establishing a proper sleep-wake cycle — your circadian rhythm. Winding down before bed, avoiding screens at night, and going to bed at the same time will help you sleep better.
Eat a balanced diet
Diet is another big factor for your energy levels. Very simply, the food you eat is fuel for your body — ensuring you're putting in the right kind of fuel is really important. Here are a few key nutrients that have a particularly big impact on your overall energy: 
If you still feel sluggish, it's worth seeing your GP to rule out nutrient deficiencies or any conditions that could lead to lower energy levels.
Recommended listening for you
References
Atkinson, G., Fullick, S., Grindey, C., & Maclaren, D. (2008). Exercise, energy balance and the shift worker. Sports Medicine, 38(8), 671-685.
National Health Services (2018). Iron deficiency anaemia. Retrieved 27 July 2020 from https://www.nhs.uk/conditions/iron-deficiency-anaemia/.
National Health Services (2017). Health: A-Z: Vitamins and minerals: Vitamin D. Retrieved 27 July 2020 from https://www.nhs.uk/conditions/vitamins-and-minerals/vitamin-d/.
National Institue of Health (2018). Office of dietary supplements. Vitamin B12: Fact sheet for health professionals. Retrieved 28 September 2018 from https://ods.od.nih.gov/factsheets/VitaminB12-HealthProfessional/.
Riediger, N. D., Othman, R. A., Suh, M., & Moghadasian, M. H. (2009). A systemic review of the roles of n-3 fatty acids in health and disease.Journal of the American Dietetic Association,109(4), 668-679.
Woods, J. A., Wilund, K. R., Martin, S. A., & Kistler, B. M. (2012). Exercise, inflammation and aging. Aging and disease, 3(1), 130.